In order to edit your Application Settings, go to Settings -> Application settings.
It is advised that you setup the following preferences before you start using Elorus officially, for your convenience.
Settings
Various features related to invoicing, notifications/email and display parameters are setup from this tab.

Amounts Are
Set how Elorus calculates values in your Estimates, Invoices, Bills & Recurring documents. This is a default value that you can override for each document. For more details visit the related article here.
Numbering padding
Set up the total number of numerals in the document's number (e.g. "005" or "00005").
Auto-numbering of draft documents
If enabled, Elorus will always allocate a number when creating a new document. Disable this setting if you want your new documents to receive a number only after they're issued.
Force sequential numbering
If enabled, invoices & credit notes will only be issued if they follow a valid sequential numbering. See detailed instructions here.
By clicking Check numbering, Elorus checks the numbering of the organization's sales records and looks for mistakes. If there are any errors, it will display them in a list along with correction suggestions. If this happens often, we recommend that you select the "Force sequential numbering" function (after you fix the errors).
Formats
Address format
The format in which your company's and your contacts' addresses will be displayed on your documents. Predefined placeholders, space characters and ',', '.', '-', '|' are allowed.
Exported PDF filename format
The filename format to use when exporting invoices, credit notes etc. to a PDF. Predefined placeholders, space characters and ',', '.', '-', '|', '(', ')' are allowed.
Client statement PDF filename format
The filename format to use when exporting the client statement report to a PDF. Predefined placeholders, space characters and ',', '.', '-', '|', '(', ')' are allowed.

In case a mistake is made during the edit you can click on the Reset option in order for the information to be set back to default.
Hourly rate
The rate of your billable hour. This is a default value, you may override your rate on a per-project basis. For more information on projects visit the instructions here.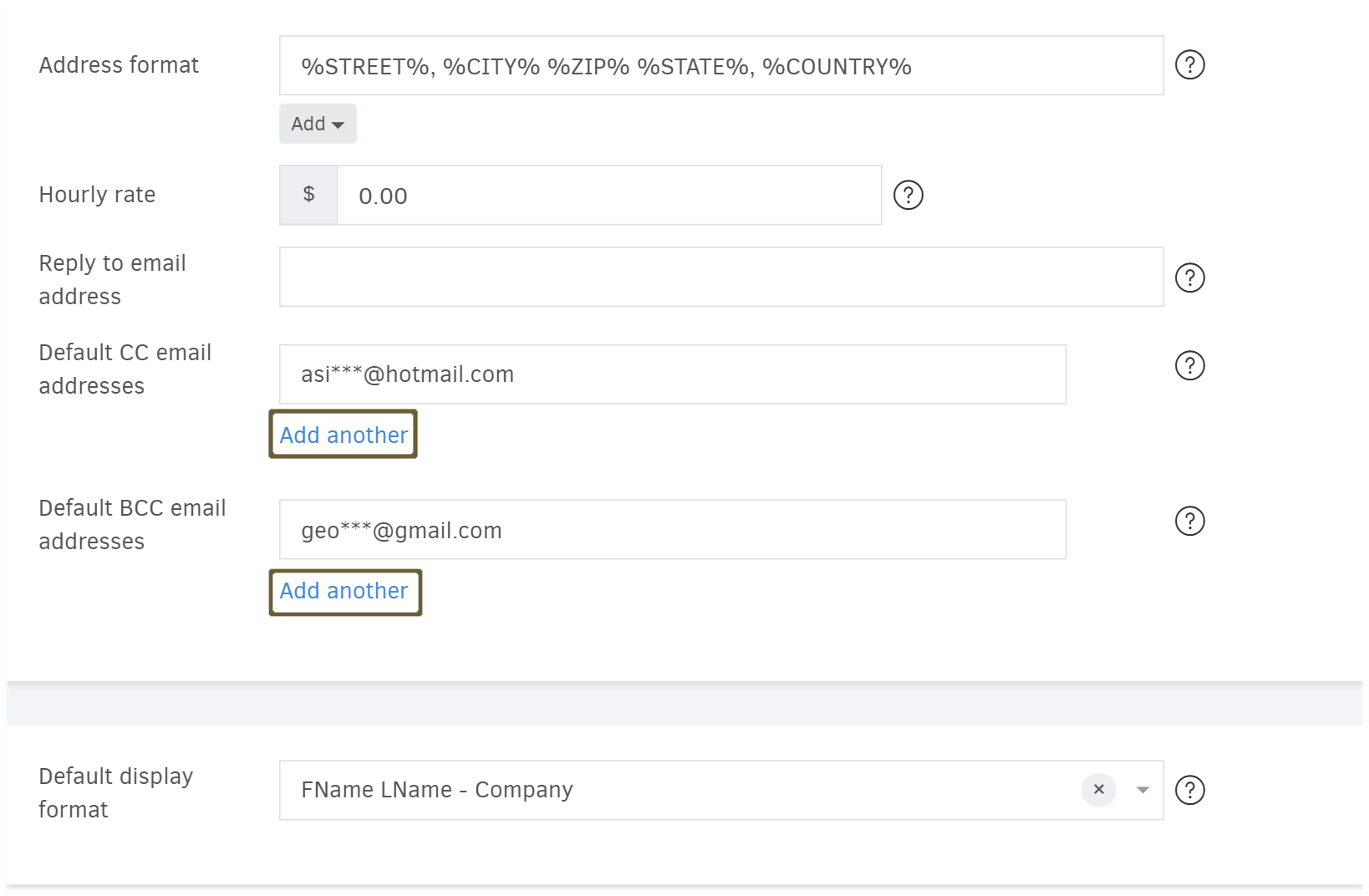 Default reply to email address
If your client responds to an email sent through Elorus, the reply to email that you set up here will receive the reply email. Note that if you don't set an email address in this field, the application will forward client replies to the email of the user who initially sent the email.
Default Cc email address/addresses
This field allows you to establish the CC email address to which every invoice you send to each client will be forwarded. If you need more than one person to be CC'd in your correspondence with your clients in Elorus, click 'Add another' and add more of your business partners.
Default Bcc email address/addresses
By using this field you can establish one or more bcc email addresses, for the emails you send through the app to be forwarded to (in secret).
Default display format
You can choose how you want your contacts to appear in the contacts page and in all contact / client / supplier selection boxes across the application.
Client portal company info
Determine how your company details will be displayed on the client portal.

Allow negative stock
If you disable this option, Elorus will prevent you from invoicing products that are out of stock. The setting applies only to products / services whose stock is being managed. For further instructions on stock management visit the related article.
Cheques
Should you need to keep track incoming/outgoing checks, enable the feature and find the functionalities under "...More".
Integrations
The Integrations tab allows you to connect Elorus with supported third-party applications.
Slack integration

Install the Elorus4Slack application to receive Elorus notifications on Slack. For instructions, visit the related article.
European VIES integration
Enable this integration to import contacts based on their european VAT number via the contacts page. To proceed, hit "Install".

Backup
From the Back up tab you can download a full list of your records for each one of the following groups:
Sales (Invoices, Credit notes, Estimates)

Purchases (Bills, Supplier credits)

Payments (Received, Sent, Incoming/Outgoing checks)

Time tracking (Projects, Tasks, Time entries)

Settings (Taxes, Document types, Numbering sequences)

General (Contacts, Products/Services)
To see more regarding back ups see here.
---
Was this article helpful?
---
What's Next