Share feedback
Thanks for sharing your feedback!
The Elorus Firefox Add-on is essentially a button that lets you track time wherever you are on the web, without having to keep an Elorus tab open in your browser all the time.
The Add-on offers convenience, as it saves your time entries directly in your Elorus account. It can also remind you to track your time within a designated time-window, so not even a second is left untracked!
Apart from that, our Add-on integrates with these cloud applications:
These integrations allow you to track time straight from those applications, thus saving you time and increasing your team's efficiency!
How to install?
Go to the Elorus Add-on in the Firefox Add-ons page here.

Click "Add to Firefox".

Review the permissions Elorus requires and click "Add". Once you've installed the add-on, a small Elorus logo will appear in the top right corner of your Firefox browser.

Click the Elorus icon and log in with your Elorus account.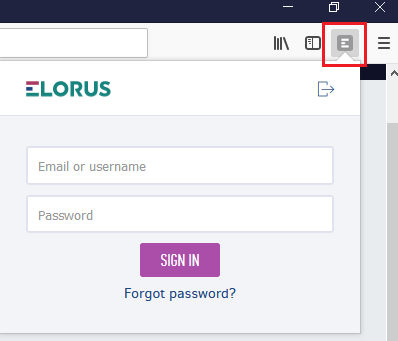 About the icon
When the button is plain grey it means you are not currently tracking time.

When the button is green it means there is a time entry currently running.
Start tracking time
Click on the Elorus button to reveal the timer's drop-down menu. Here you can see the currently running entry, stop the timer, open settings, or log out.
Select a project and / or task and type in a brief description in "What are you working on?". The timer will start as soon as you choose a project/task or by clicking the Play button.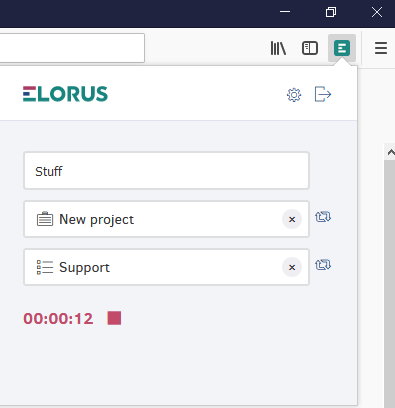 Add-on Settings
Use the "gear" icon to change General settings and set a time tracking reminder. The reminder will pop-up on your screen every hour within the designated time-frame.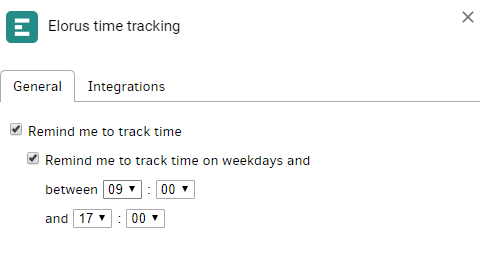 Inside the Integrations tab you can select which web apps you want the Elorus time tracking to integrate with and how each one should treat tasks.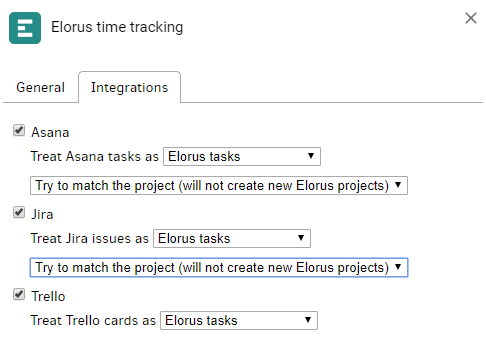 For instructions on our integrations with other apps, visit the related articles.
---
Was this article helpful?
---
What's Next