Make sure you have received the files you just downloaded to your computer.
The files you download from Elorus go to your default folder for downloads. This folder is designated through your browser's settings depending on the program you use to navigate the internet (Mozilla, Chrome, Safari etc).
While exporting, make sure that the pop-up block setting is not activated on your browser, as it will prevent the file from being exported.
Specifically, you'll see a red X icon on the left of your address bar during download, which you should click and allow for Elorus download.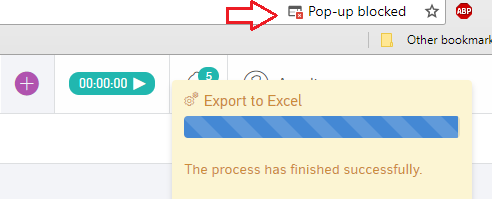 Especially for Safari, you will need to go to the menu -> Preferences -> Security tab and disable the "Block pop-up windows" setting. You may also check Apple support for more details.
Tip! You could also check on add-blocks or other similar extensions for interfering with elorus's pop ups.
Once the export is completed, your data will be saved on your computer and can be found in the downloads default folder.
---
Was this article helpful?