There are currently four types of sales reports in the system:
Sales detail contains a full table of invoices and credit notes, so you can view the balance of the interval of your choice.
Sales per client is a view based on clients, combining the different invoices and credit notes issued to each one of them.
Invoices summary and credit notes summary are two reports that visually present your data (separately).
The best way to see what you can do with the reports is enter each one in "Reports-> All reports" and check out filtering and other options. Check out the examples below to help you understand your tools.
SALES PER CLIENT
How can I use reports to see who my most important clients are?
There are quite a few ways you can view the information requested: The fastest way would be to check the related chart (net totals per client) in "Invoices summary", however you would be able to get more information from the Sales per client report as it contains details on the frequency of each client, both net and gross totals and more. An example of this report comes below.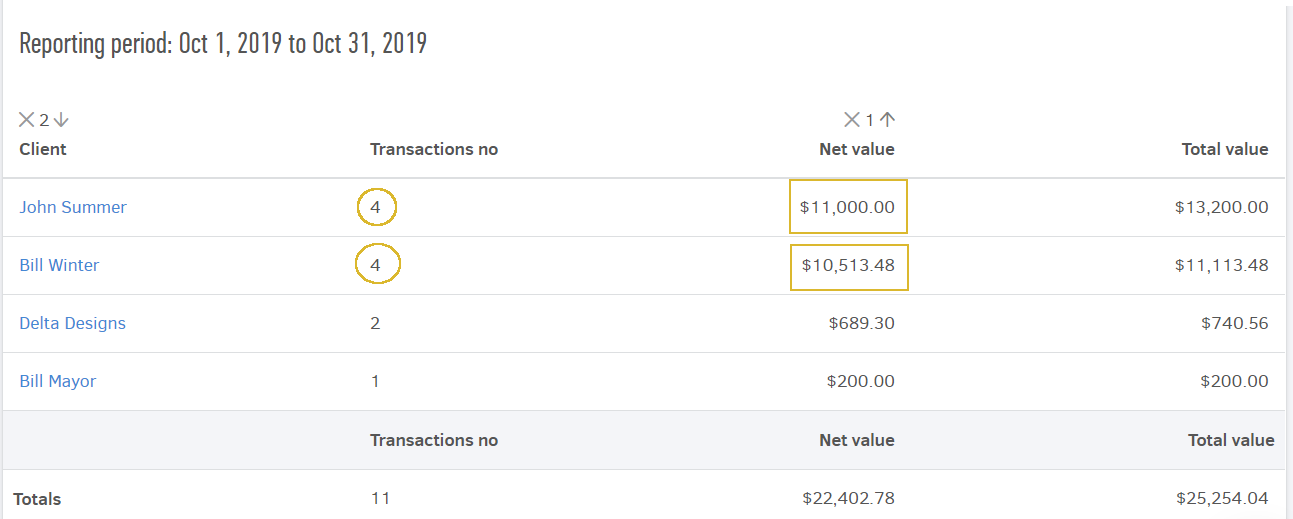 In the example above, the most important clients (according to previous month statistics) are "John Summer" and "Bill Winter", both in total sales values and in number of transactions with your business.
In the 'INVOICES SUMMARY', the information is shown as below: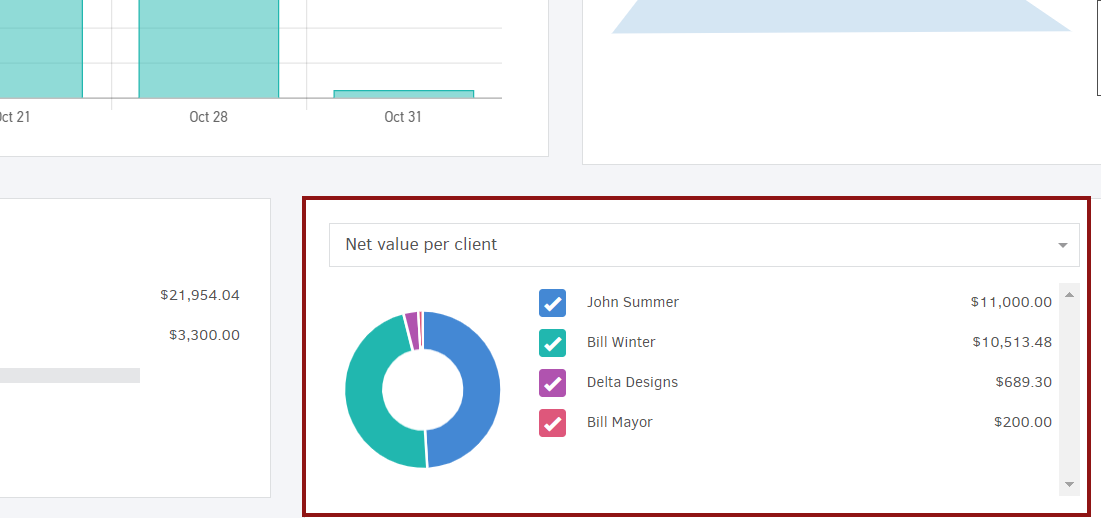 SALES DETAIL
How can I view in detail my outstanding documents for a certain period of time?
From the sales detail you can find out how much you can expect out of period sales (for example, last month) and how is the amount accumulated: You can make overdue invoices and credit notes appear - in the example below, there are no unpaid credit notes. However, there are quite a few overdue invoices - you can effectively locate them and act towards receiving the amounts you are owed. You can start by informing the clients. This process can help you identify partners so you can make the most out of your automated reminders.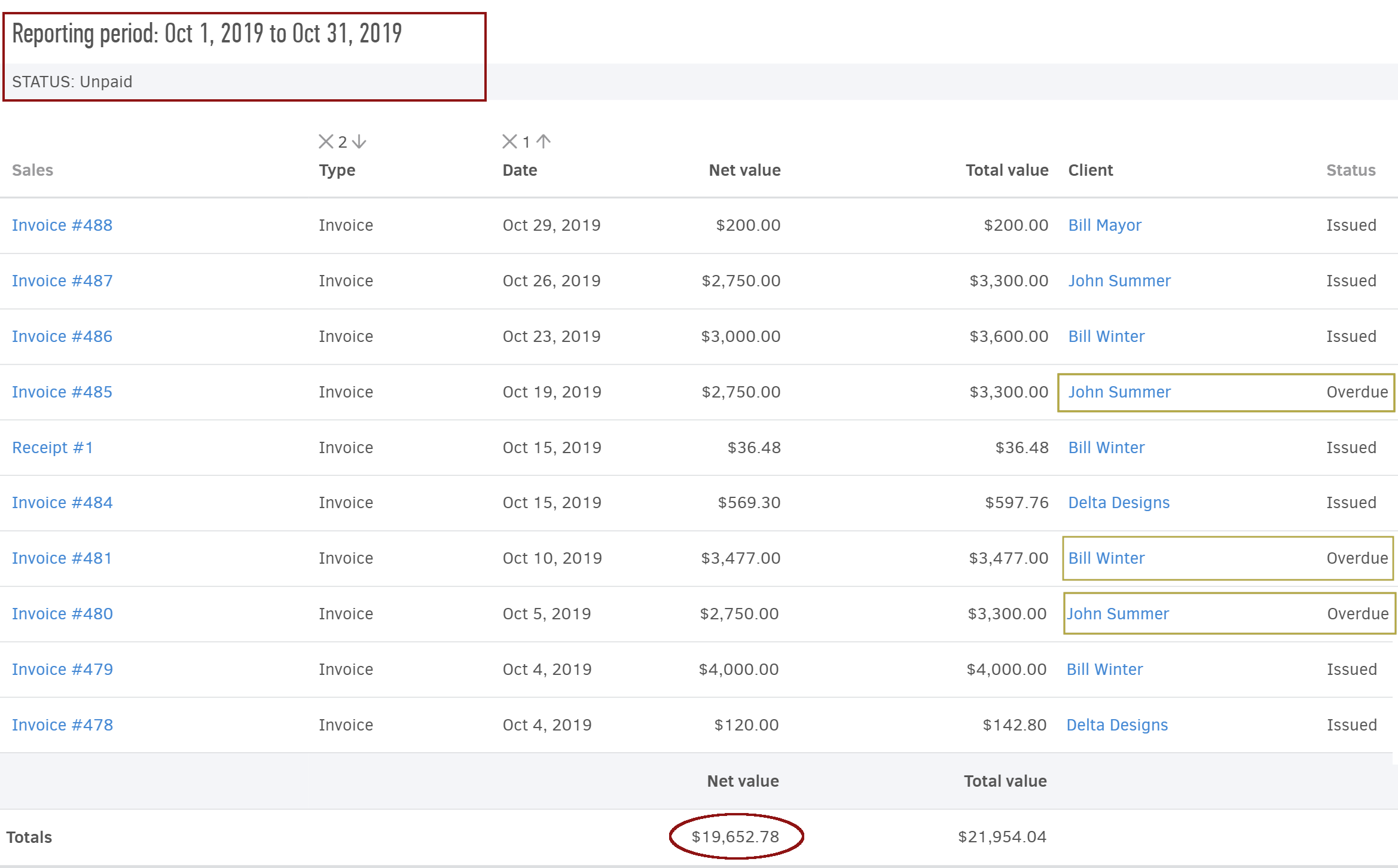 In the example above, the Filter "Status-> Unpaid" has been used, and the due and overdue invoices and credit notes appear. 'Invoices' is the only type of documents that come up to fulfill this criteria. There are three overdue invoices (by two clients) and pursuing payment of those could be a good way to move forward in order to be paid for your work done.
CREDIT NOTE SUMMARY
How can I have an overview of the credit cancellations - How much credit did I need to issue in a certain time period?
The credit note summary report allows you to view credit you issued to clients in different graphs - in the sneak peak below, you can see the final two pie charts available in the report that show net credit, paid credit and also net credit per client.

Notes:
The sales per client (table) report, as long as 'sales detail' can be downloaded in excel or pdf file form, can be saved onto your device. Just click "Save" .

Summary reports show you pre-prepared tasks, for specific time periods in charts (diagrams, pie charts and more). However, by simply hovering over the graph, you will be able to view the exact numeric value of the entry/entries you are interested in.
---
Was this article helpful?
---
What's Next