Once you've registered with Elorus, the next move you will most likely follow is to set up your organization.
You will therefore follow some steps through the "Settings" menu to:
Enter your business details
Enable Elorus integrations
Define the types of documents, taxes and numbering sequences you use,
Τo configure the appearance of your documents (by creating Templates)
And potentially add extra users to your organization.
Once you have completed these actions, you will be able to use Elorus, and issue your first invoices, in just a few minutes.
Orgnanization
In the organization settings ("Settings" -> "Organization") you can find all the information you've already provided about your company in Elorus. From there, you can also set or modify your company details at any time (VAT number, address, brand, subdomain/URL, etc.).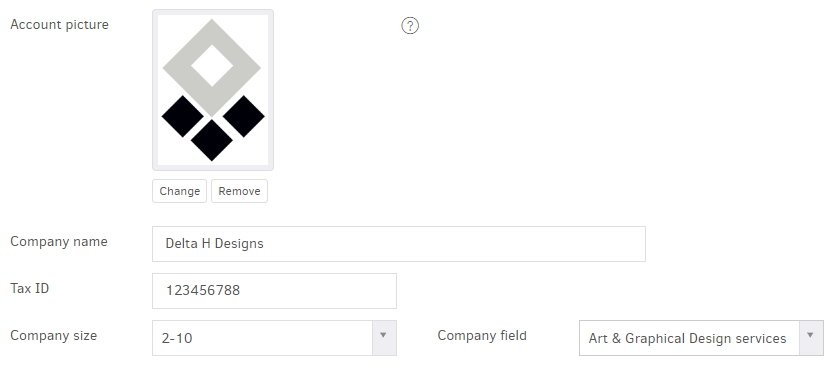 This information is important since:
Some fields are listed on the printable of your documents
Using these data we issue documents for the purchase of your subscriptions.
The information you enter here is automatically applied in the Default Template and therefore in the documents that you will issue by defining the specific template. (unless you have configured it before setting up company information). Of course, the template can be edited at any time to adjust what information will appear on your documents and how.
From the main menu, select Settings-> Organization to enter your details.
Initially you see your Account ID which is useful to you if you use our API to connect Elorus to a third party application.
Then you will find the Subdomain/URL of your organization which is the only address that your organization has in our system. Through this, you log in to use the application and you can modify it at any time (provided that the new URL is not already in use).
In the Account Picture you can upload your company logo, which will be used in various sections of the application.
This logo will not be used on the invoice documents and estimates you issue, if you want to do that then you can customize the document logos through the templates.
In the Company field, you choose something indicative
and if you want to make adjustments so something more specific can appear in your documents you can do so from the Templates menu.

In the Currency field, select the base currency of your organization, in which any transactions in foreign currencies will be "translated". For more information on multiple currencies, see here.

Finally, the Initial capital is an amount that will be recorded directly in your Liquidity and will be taken into account in the cash flow reports.
If you have one or more branches or run two businesses, you will need to add a second organization. For more information in regards to adding and managing multiple organizations click here.
Document Types
Elorus supports the creation and management of three different categories of documents: Debit Documents, Credit Documents and Estimates. For each of these categories, you have the ability to define different types of documents.
If you use a specific type of document that is not included in Elorus, you can "Add" it by following the instructions from this guide.

Note!
Each document type retains its own numbering. For example, if you issued one invoice with number # 15 and then issued a credit note,
the credit note won't have the number #16 since it will continue it's own numbering sequence
Numbering sequences
The numbering sequences can help you manage your organization's documents. They are especially useful in cases of invoicing of different activities or countries and are also necessary for the management of your branches.
To create a new numbering sequence go to the menu "Settings -> Numbering sequences -> Add
For more information on document numbering series visit the relevant article
Taxes
In order to create your own taxes from the main menu you need to visit Settings > Taxes > Add. To find out more about taxes and how they can be used in Elorus, please refer to the related section.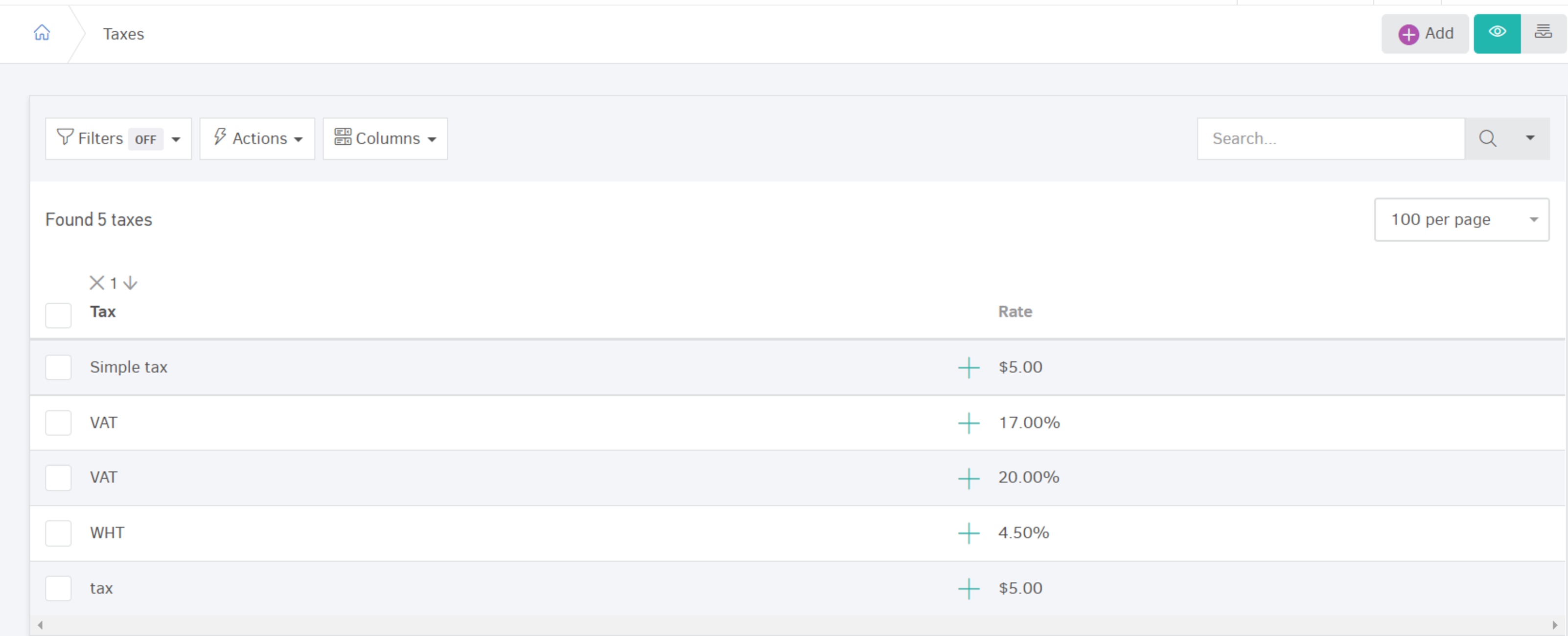 Templates
Templates in Elorus are models that determine the appearance of your documents. When adding a document, you can choose which template the document will receive, therefore the document will take a similar appearance.
Every new organization in Elorus has an original template called "Default" which you can edit and use right away.
All settings related to the appearance of the documents can be saved through the template, as they allow you to customize the appearance of the documents by adding your company logo, choosing different colors and filling notes in the blank fields.
When creating a new document you can select its template so that the document is initialized with the settings you have specified in it. This will allow you to have a different look per document.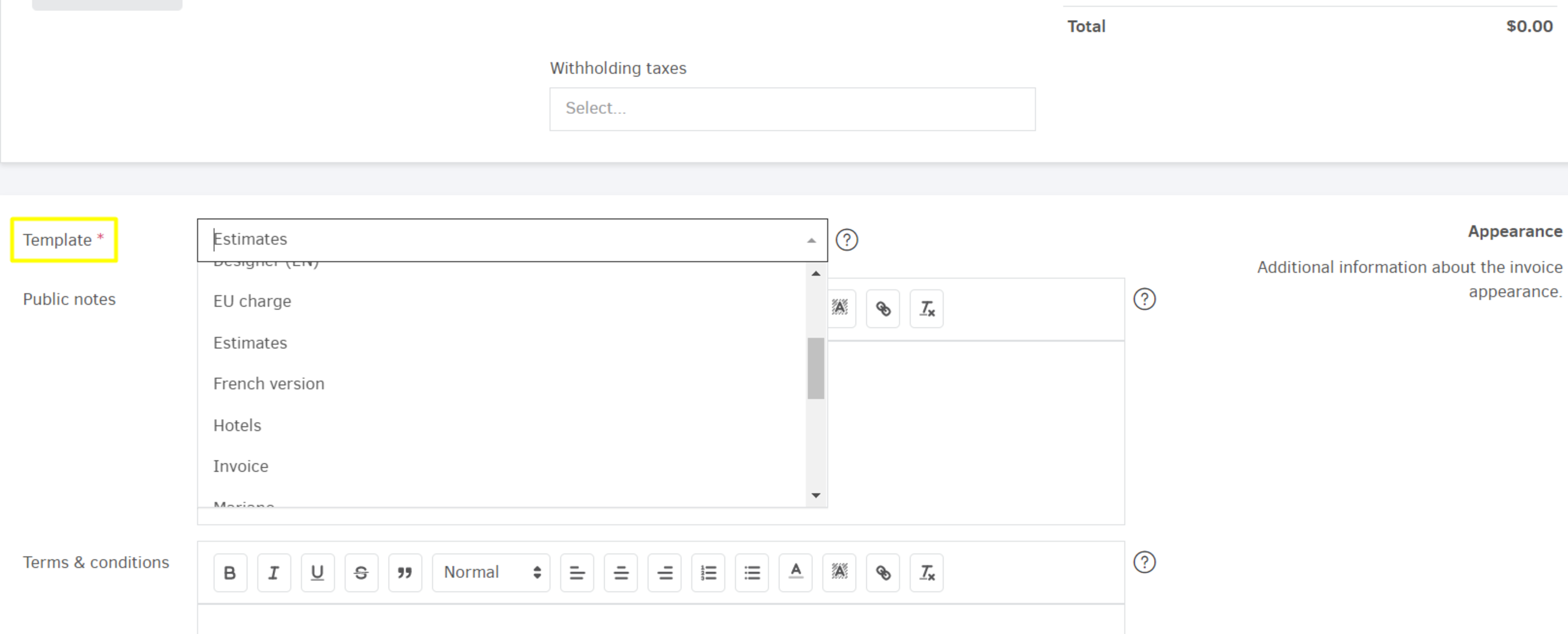 This will serve you in cases where the company has multiple brands / activities and of course when you want to invoice in different languages. In the aforementioned cases, you need to create a separate template for each activity and for each invoicing language.
In addition to the ability to edit the appearance of the document, through the templates, you can also edit your default e-mail texts.
To manage the available templates, you can go to "Settings -> Templates"
You can learn more about creating your own Templates by visiting the relevant article.
.:::(Info) (Important Note!)
Each Template determines the appearance of the documents and not the document type of each entry
:::
You can select the template to use either when issuing the document or after saving, as shown in the image below: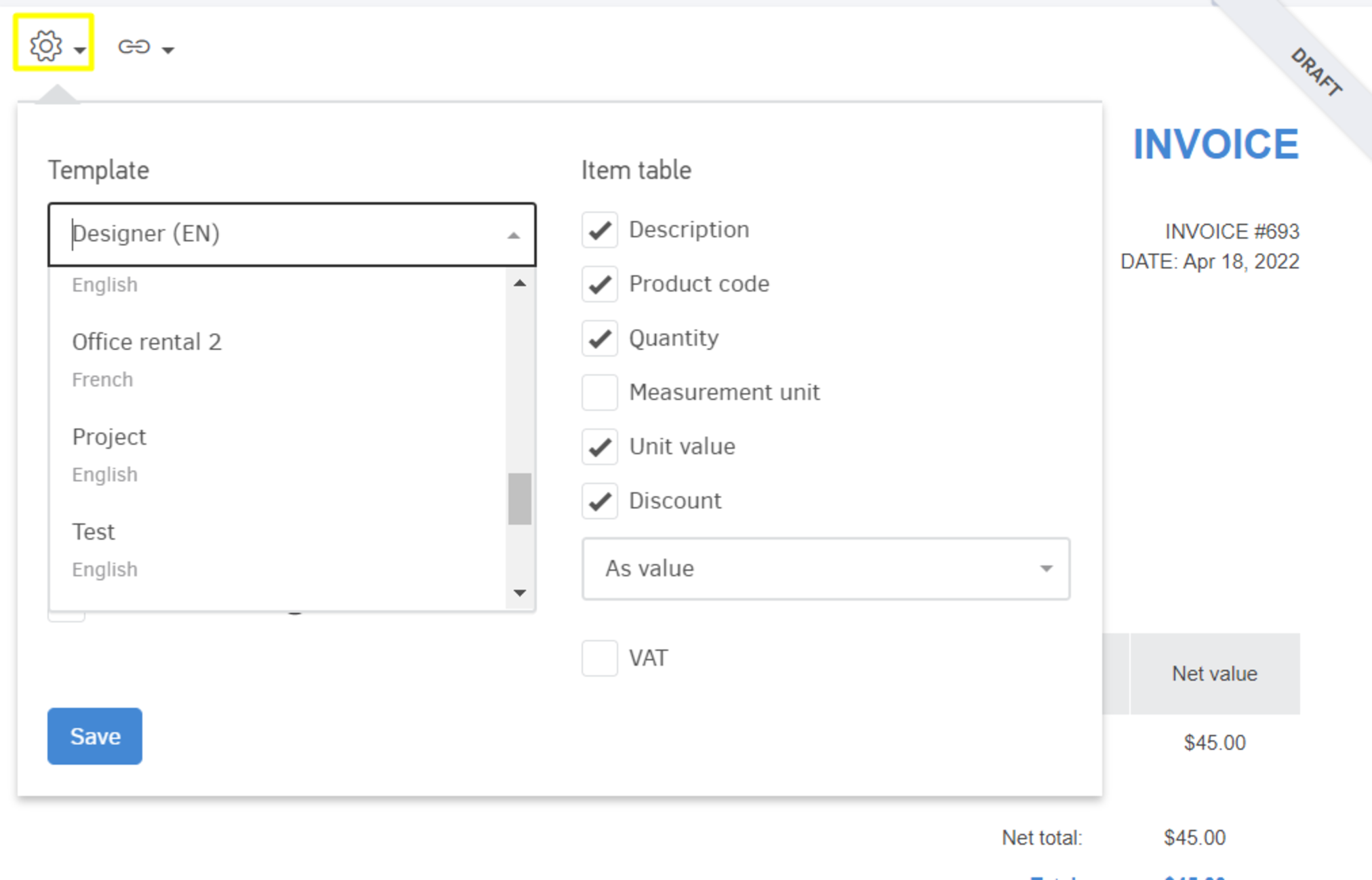 Finally, you can select which template you want to use per contact when you create them
If you want to edit an existing template or take any other action, you can refer to this guide.
Users and Roles
Add users
There are cases in which, it may be required to add additional users to the organization. Such reasons may be the execution of projects and tasks (employees), simple access (Associates), or the control of entries (eg Accountants).
For more information on the usefulness of different users, as well as how you can add them, you can refer to the related article
In order to have multiple users you will first need to purchase a subscription plan since the free one supports one user. When purchasing a subscription plan, you must select the number of users you will add.
Once you've activated the subscription plan with the additional users you will need to invite them, you can do so from the menu Settings > Users and Roles.
Add Roles
Next, you will choose the role of each user, in order to limit or not, his access to your organization.
Elorus has five main user roles, however you can add your own roles from the "Role Management" menu.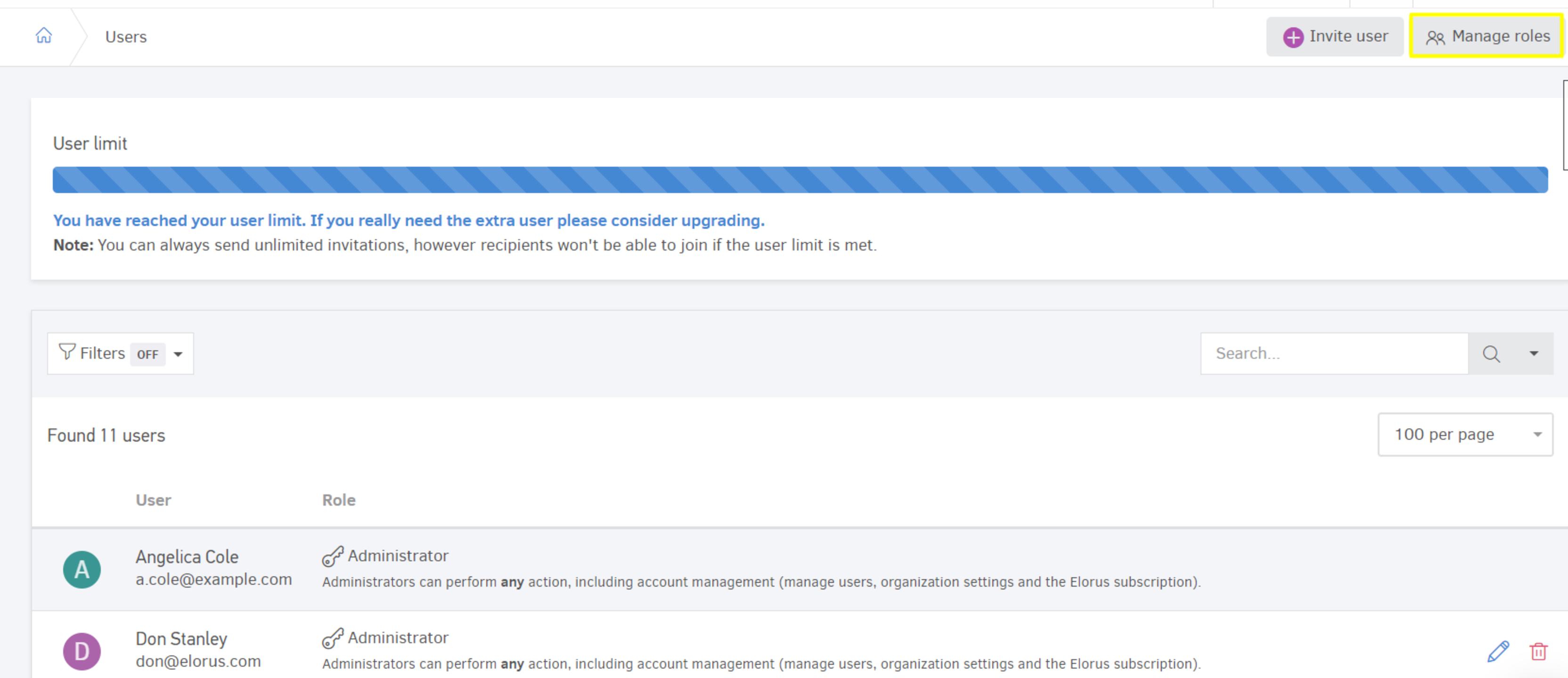 From this menu, you can set the permissions of the role as well as set the corresponding title.
In case you need more detailed information about the roles, you can refer to the corresponding article
---
Was this article helpful?
---
What's Next