Elorus subscription plans are available on a monthly or annual billing cycle. To activate your subscription in Elorus, simply select one of our paid plans and complete your payment by choosing one of the following methods:
From the "Settings-> Subscription" page you are able to upgrade/downgrade your organization, switch billing cycles or even cancel your subscription at any time.
Apart from that, you can enter the page any time you want to confirm your payment plan, date of renewal, client limit and view past transactions in "Billing History" There, you can also download the invoices we have issued to your business.
*Subscription page is available to users registered as "managers" in your organization.
Subscription renewal
Your subscription is automatically renewed at the end of each billing cycle, using the same payment method you selected during activation. More specifically, the application will attempt to renew your subscription up to three times. For each failed attempt, the organization's administrators will receive an e-mail update informing them of the incident. After the third unsuccessful attempt, your organization will be automatically downgraded to the free subscription plan, without losing any data. All you need to do in this case is to manually renew your subscription following the steps.
Note: Downgrading to the free plan means that all users, except for the first registered administrator, will not be able to access Elorus. You must upgrade your subscription and visit the "Users & Invitations" page to manually reactivate them. In the image below, for example, a second user is added prior to proceeding with "review order" .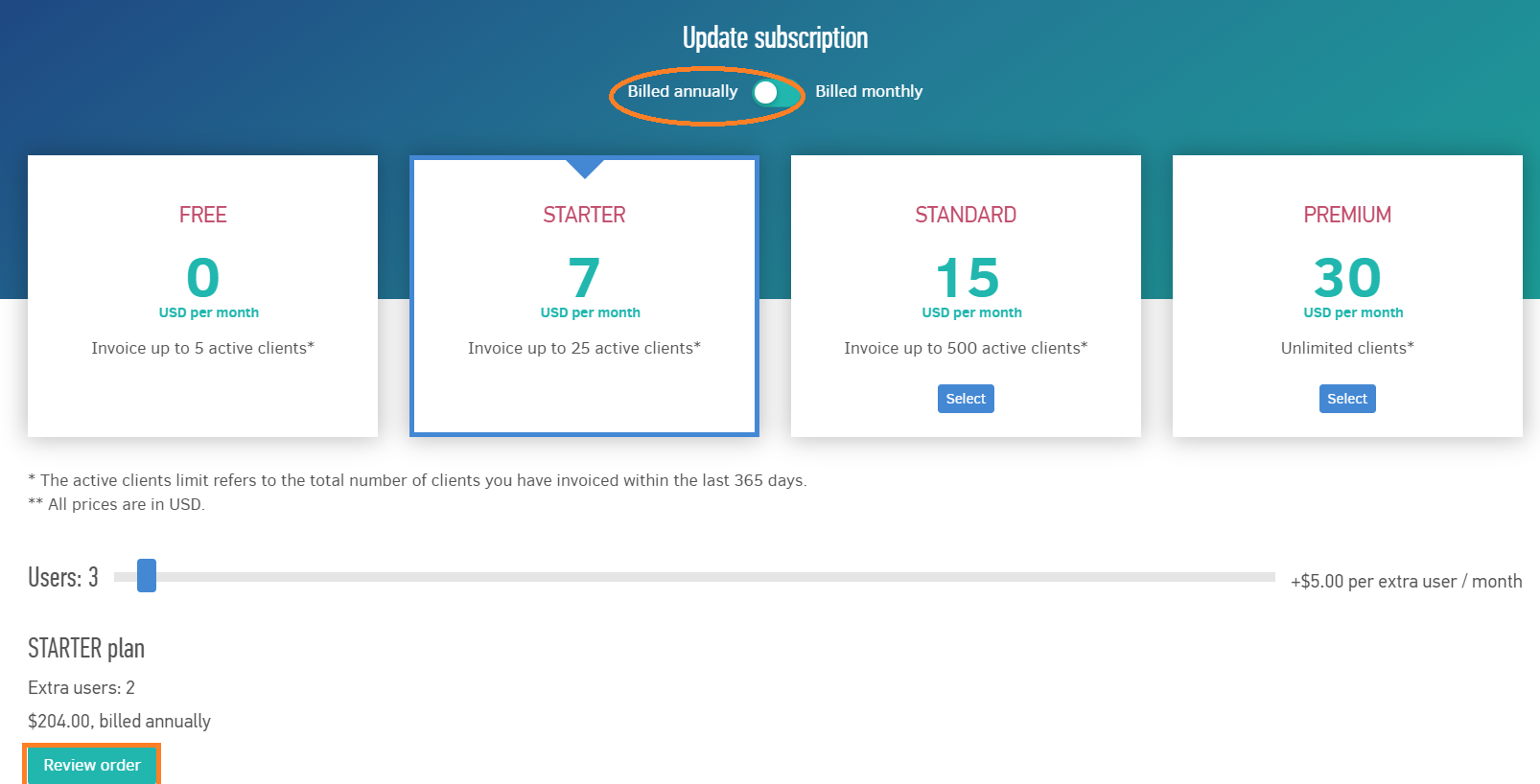 Cancel subscription
If you choose to proceed with the cancellation of your subscription, your account will remain to your current plan until the date your subscription expires. After the expiration date, your account will be automatically downgraded to the free plan without losing any data/records.
Change subscription plan or billing cycle
Whenever you upgrade/downgrade or change the billing cycle of your subscription plan, the time remaining on your current subscription is credited as balance in your account. This balance is always visible to you from the "Subscription" page.
Examples
Suppose you paid $84 to activate the Starter plan in an annual billing cycle, you have 140 days remaining until the next renewal and you decide to upgrade your subscription to Standard. The annual billing cycle for the Standard plan costs $180. 140 days remaining in your Starter plan translates to (84/365) * 140 = USD 32.22, which will be credited to your account. So the amount you have to pay to activate your new subscription to the Standard plan is: 180-32.22 = 147.88 USD. In each subsequent billing cycle, the amount to be charged to renew your subscription is 180 USD.

Suppose you paid $360 to activate Premium on an annual billing cycle and your subscription has 300 remaining days. You decide to downgrade your plan to Standard and to a monthly billing cycle (19,00 per month). The 300 days remaining in your Premium plan translate to (360/365) * 300 = USD 295.89, which will be credited to your account. So, to activate the Standard plan you don't have to pay anything, as the 19 dollars will be deducted from the balance credited to your account. In each subsequent billing cycle, your subscription will be automatically renewed without charge until no more credit balance is available in your account.
Change payment details
In case your bank sends you a new credit card or you simply want to use a different method of payment in elorus (such as paypal), all you need to do is go to "Settings-> Subscription" and click on the change payment details link. These are the instructions in full.
Update billing details
When creating your organization, Elorus saves your organization's information as billing information as well.
According to the greek invoicing system and the relevant legislation, registered VIES businesses should enter their tax ID to remove tax charges from future payments.
Therefore, we suggest that you change the billing information of your organization to a tax ID number registered to VIES through Settings--> Subscription--> Update billing details.


---
Was this article helpful?
---
What's Next