What is JIRA?
JIRA is a cloud application designed to help software development teams in launching their products and keep track of bugs.
For more details about JIRA visit www.atlassian.com/software/jira.
How does it work?
By enabling this integration you will be able to track time in Elorus while using JIRA. In other words, instead of visiting the Elorus website whenever you want to Start or Stop the timer you'll be able to interact with the timer directly from your JIRA account. With the integration active, you will see an Elorus button inside the JIRA interface.
Enabling the JIRA integration
Download and install the Elorus time tracking extension for Chrome or Firefox.
Elorus Extension on Chrome
Elorus Add-on for Firefox
Open the extension Settings and click on the "Integrations" tab.

Enable the JIRA integration.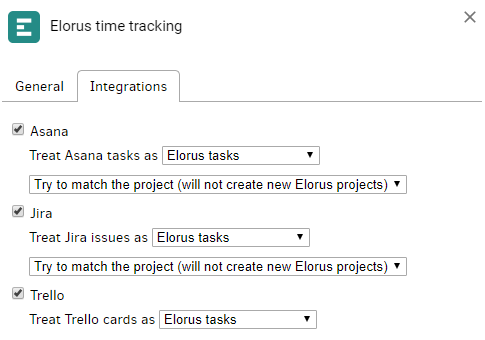 You can determine how your JIRA issues will be treated by Elorus:
As Elorus tasks or as time entry descriptions.

And then, if you want Elorus to match the issue with one of the projects you have already setup in Elorus or create it manually.
Tracking time in JIRA
Make sure you are signed in the Elorus extension, first. With the integration active you will see a "Start timer" button inside each JIRA issue.
---
Was this article helpful?
---
What's Next