VivaWallet is a Greek online payment services company, certified by the European Central Bank (Viva Payments). One of its advantages - in comparison with other solutions - is that it can transfer the money you collect directly to your bank account where it is immediately available.
In order to accept online payments via VivaWallet for the documents you issue, you need to have a VivaWallet account first.
VivaWallet is only available in certain countries and in order to find out whether you are an eligible user, you can visit www.vivawallet.com and follow the registration instructions.
Note: In case you want to issue documents in foreign currencies please make sure VivaWallet supports those currencies.
In case you already have a VivaWallet account, its integration with Elorus is quite simple. From the main menu select "Settings->Payment gateways". Then, press "Add" and from the list of options select VivaWallet.

The first step to establish a new payment gateway is to determine its title. The title will be visible to your customers when they make an online payment. Make sure that the gateway is "Active" and if you want VivaWallet to be an available option in your new commercial documents, activate the "default" field.
Also, regarding the VivaWallet you can choose among multiple ways of payment by activating the relevant fields. Depending on which fields you will enable, Elorus will print a unique payment code on your documents which your customers can use to pay you offline, as well.
Web banking/Viva spots: If enabled, your clients will have the option to pay via their web banking or pay in cash at a Viva Spot.

Payments at home: If enabled, your clients will have the option to pay using Viva's Pay@Home service. For more information, click here.

Phone payments (IVR): If enabled, your clients will have the option to pay using their debit/credit card over the phone, using Viva's Interactive Voice Response (IVR) System.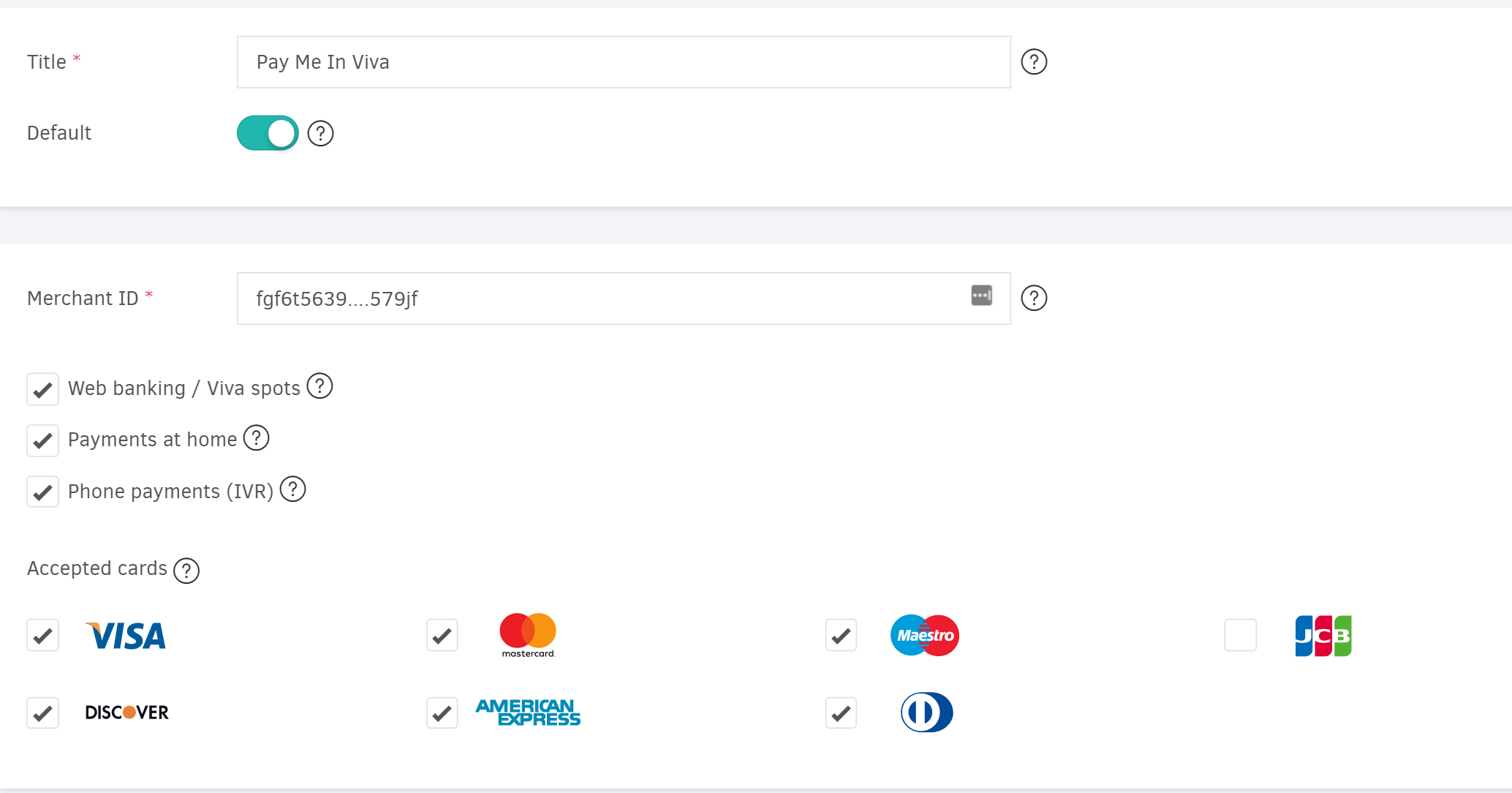 Regarding VivaWallet, you have to insert your account's Merchant ID.
This information is available in your VivaWallet account below "Settings -> API access-> General ->Access credentials". After you submit the Merchant ID, click "Save". Τhe moment you save, Elorus will automatically check the Merchant ID you inserted for validity and apply certain settings to your VivaWallet account so as to be able to accept payments. Through the VivaWallet environment, in the section "Sales-> Payment gateways" you will find a source named after "Elorus" which was automatically created by the application.
In order to ensure the gateway's quality operation, you should not delete this source from your account. If you wish, you can edit it and add your company's logo (so that it is visible to your clients on the payment form) or associate it with a certain VivaWallet (so that the money is transferred to the respective wallet instead of your bank account), without applying any other alterations.
You have now interconnected your Elorus account with VivaWallet and can start accepting online payments automatically! For more information about payment gateways and online payments instructions, you can refer to the related article.
---
Was this article helpful?
---
What's Next